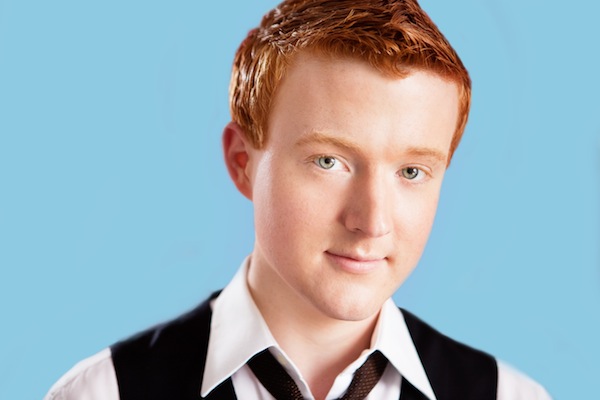 When I was five I was introduced by my grandparents, Roy and Isobel Boller to the Great American Songbook and classic tunes of Dean Martin, Cole Porter, Tony Bennett, Duke Ellington, and, of course, my all-time favorite vocalist Frank Sinatra. There was something special about Frank. He was so unique and smooth with his phrasing. No one can perform like the Chairman Of The Board.

I participated in school choruses and choirs from 3rd grade through my senior year of highschool. NYSSMA adjudications, All County, Area All-State, and All State choirs were all an important part of my training. When I was 8, I began taking piano lessons. My grandmother even gave me her piano so that I could practice. I joined the Western New York Children's Choir, Buffalo Choral Arts Society, and American Music Abroad Empire Tour, which gave me the opportunity to perform in such places as New Orleans, Hawaii, France, Austria, Italy, Germany, and Switzerland. Never having been out of the country, touring with these choirs was an amazing experience. Little did I know that it would be my first trip to New York City that would change my life forever.

Because of friends' encouragement to try out for American Idol and my own temptation of seeing the city that never sleeps, I convinced my mother to take me to New York City for the 3rd season "American Idol " auditions being held at the Jacob Javits Center in Manhattan. Thinking that I would not make it through the first round of tryouts, I planned out our week of sightseeing. This plan never took effect and I made it through not only the first round but all the way to the top six contestants. The show paved way for me to pursue my dreams. I spent the summer of 2004 touring with the "top 10 " from season 3, appearing in 49 shows in 46 cities across the USA and Canada. I also had the opportunity to appear on several national television shows including: Ryan Seacrest Live, The Tonight Show with Jay Leno, Late Night with Conan O'Brien, The Late Show with David Letterman and Live with Regis and Kelly.

During October and November of my senior year in high school, I spent weekends in NYC and LA recording my first album "RED " produced by Steve Tyrell with Maverick Records. In December 2004 I did my first solo concert at the Atlantis Hotel in Nassau, Bahamas for Song Airlines, following their maiden flight to Nassau from NYC. I also performed for the 1st time with the Buffalo Philharmonic Orchestra in the Holiday Pops Concerts conducted by Marvin Hamlisch. In late winter 2005 I performed in Washington, DC for NAMM in a concert with the Commodores after lobbying Congress for support of music education in schools, a cause dear to my heart.

June 2005 brought the release of "RED ", a five-day appearance at the prestigious Feinstein's Jazz Club at The Regency Hotel, NYC and graduation from high school. I also appeared at Shea's Buffalo, The Dakota in Minneapolis, Baton Rouge, The Grove in LA, and for the American Red Cross, Hunter's Hope, Roswell Park Cancer Institute, Habitat for Humanity, Essential Care (hospice for children), The Variety Kids Telethon, The Jerry Lewis Telethon, The Buffalo Philharmonic for Victims of Katrina, and a fundraiser for my high school music department.

In 2009, I graduated Magna Cum Laude from Berklee College of Music in Boston, MA with a degree in Professional Music. Throughout the four years at Berklee, I had the opportunity to work with various faculty and students in projects and performances on campus. Outside of school, I was able to continue to perform the music that I love with a New England big band: The Beantown Swing Orchestra. I also performed on Silver Seas Cruises for John Hancock, at Paramount Studios for a private New Years Bash, and at Lowell Memorial Auditorium to raise funds for geriatric housing. Inspired by the curriculum that Berklee offered, I began writing compositions of my own, one of which debuted on my joint production of " Home For Christmas ", my second album.

Having been produced, arranged, and recorded in my hometown of Buffalo, NY using musicians of the Queen City, I returned home for its' special Western New York release. Bringing the community closer together, the album was sold at local retailers and restaurants and a portion of each album sold was donated to the American Red Cross: Buffalo Chapter. In 2009, I performed at Gleasner Hall with Mary Kate O'Connell and the Colored Musicians Club Big Band as well as for the second time with the BPO at the First Niagara Holiday Pops to help promote the release of "Home For Christmas ".

From 2010 to 2011, I joined the staff of WICN 90.5 FM Jazz Plus, as an early morning radio DJ, hosting "A Tasteful Blend" on Thursdays and Fridays. I continue to tour and record as the lead male vocalist with the Beantown Swing Orchestra and Mighty Groove, a top 40 band.